Harness Your Inner Circus Power!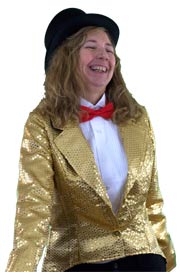 This entertaining presentation offers tips for reducing stress and avoiding burnout by applying the magic of circus to your everyday life. Are you feeling like you are juggling too much these days? Are you wondering how to deal with the clowns in your life? Not enough magic in your relationships? Veronica shares her secrets about how she dealt with mid-life burnout by applying circus metaphors! Her passion for circus inspires audiences of all ages to take a fresh look at life through the eyes of a circus fanatic/scholar and find a few simple ways to bring a little more joy to their world.
More about My Circus Power Story
About Veronica
Veronica shares her comical story of growing up in a family circus-themed amusement park in her book, Circus Towne and in her presentations. She lives in Littleton, New Hampshire with her husband, Charles Flanders. Together they own and manage a web marketing firm, Notchnet.
Veronica claims to be the Ringmaster of Her Own Life and enjoys inspiring others to discover their own Inner Circus Power!
Learn more at VeronicaFrancis.com